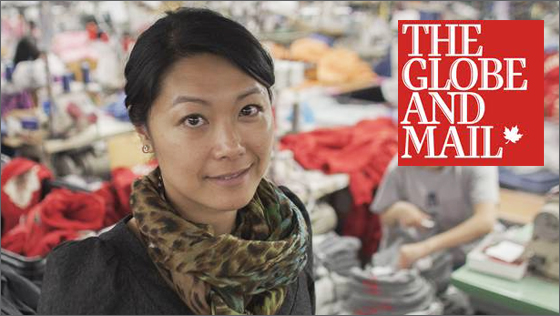 On Monday December 16th, The Globe and Mail's Deirdre Kelly put the spotlight on Kathy Cheng, President of WS & Co./Redwood Classics Apparel, in a story/video series that sheds light on a company keeping garment manufacturing on North American soil.
The article, Meet the maker of those made-in-Canada Roots sweatshirts, and video, Inside one of Canada's few remaining clothing manufacturers, offer an inside look at a family run operation on a mission to preserve Canada's textile trade — and the craftspeople dedicated to fighting the good fight.
"Designers and consumers are choosing to do business with local producers over offshore factories because of the added value brought to the partnership," Kathy says in the article.
Also featured are Toronto indie fashion label Preloved, headed by designer Julia Grieve; two-time CFDA Fashion Award winner Todd Snyder, who designs for the U.S.-based athletic wear label Champion; and Michael Budman, co-founder of Roots.
Says Budman: "Any work we can give them we do… They are one of the best sweatshirt makers in the world."
To take advantage of the benefits of a Made in Canada supplier contact our team today. Or, click here to view our expansive in-stock collection.
This entry was posted on Friday, December 27th, 2013 at 11:31 am
You can follow any responses to this entry through the RSS 2.0 feed.
Posted in: News & Announcements